Mayor Don Iveson endorses Ben Henderson
September 14, 2021
September 14, 2021
EDMONTON — Mayor Don Iveson has endorsed Ben Henderson, Liberal Candidate for Edmonton — Mill Woods. 
"I'm honoured to have received the endorsement of Mayor Don Iveson," said Ben Henderson. "Mayor Don Iveson's leadership on climate action, truth and reconciliation, and ending homelessness have made significant differences in the lives of Edmontonians. It's been a pleasure serving with Mayor Iveson for 14 years on City Council. I'm excited for the chance to continue the work we've done together on building a healthier and more inclusive city, a resilient economy, and responding to the climate emergency as a Member of Parliament in Ottawa".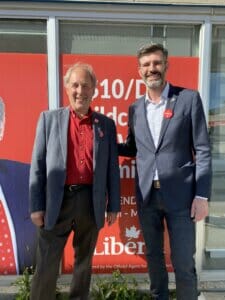 In his endorsement, Mayor Don Iveson stressed Henderson's track record advocating for action on climate change through his work as chair of the Green Municipal Fund (GMF) Council, his advocacy for vulnerable residents through the Mayor's Task Force to Eliminate Poverty, and his steadfast support for better public transit. 
"Ben's values around diversity and belonging are unwavering. Ben has consistently spoken out against racism, islamophobia, and other forms of hatred in our city," said Mayor Iveson. "If you care about affordable child care, climate change and our successful recovery out of this pandemic, vote for Ben Henderson. Ben is the clear progressive choice in Edmonton — Mill Woods. His leadership experience, his grounding in community, and his integrity are what we need more of in politics".
This endorsement comes as recent Mainstreet polling shows Ben Henderson is neck and neck with the conservative candidate in the Mill Woods riding, cementing him as the only progressive candidate capable of beating the Conservatives in Mill Woods. 
Since announcing his run for MP in Edmonton – Mill Woods, Ben Henderson has stressed his commitment to affordable, accessible child care for Mill Woods families, affordable housing, and getting Edmontonians back to work by creating good, quality stable jobs in both the energy sector and via regional economic diversification. 
Mill Woods residents can vote in the federal election on Election Day, Monday, September 20.