Celebrated civic leader Michael Phair endorses Ben Henderson
September 9, 2021
Advocate, educator and civic leader Michael Phair has endorsed Ben Henderson, Liberal Candidate for Edmonton — Mill Woods. 
Michael Phair joined Edmonton's City Council in 1992 and became Alberta's first openly gay elected official — one of the first in the country. He served as a strong advocate for social justice issues, promote efforts to reduce homelessness, build affordable housing and advance LGBTQ rights. He has championed recycling and arts and culture in Edmonton as well as efforts to revitalize Edmonton's core neighbourhoods.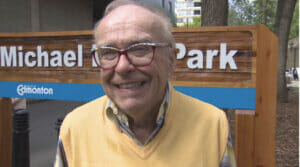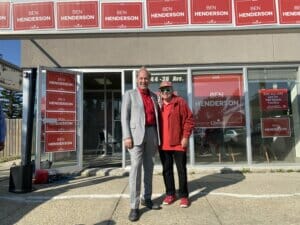 Michael Phair at a media event celebrating a park named after him (R) and Phair and Henderson and the Ben Henderson campaign launch. 
"I'm honoured by Michael Phair's endorsement. His advocacy for a kinder, more just world has changed the lives of many Albertans," said Henderson. 
In his endorsement, Phair stressed Henderson's commitment to public transit and child care.  
"I'm urging every voter in Mill Woods on September 20 to vote for Ben Henderson in the upcoming federal election," said Phair.
"Ben Henderson has been an advocate for LRT in Mill Woods. Ben Henderson knows and understands that every child should have childcare in Mill Woods. Ben Henderson is committed to getting the federal government to provide more support to local communities and the events they do around arts and culture. I have been a member of City Council — I know how hard he's worked. He's a remarkable individual. He's done a huge service for Edmontonians. He will be an authentic and effective voice as a Member of Parliament. So on the 20th of September, get out and vote for Ben Henderson."
Since announcing his run for MP in Edmonton – Mill Woods, Ben Henderson has stressed his commitment to affordable, accessible child care for Mill Woods families, affordable housing, and getting Edmontonians back to work by creating good, quality stable jobs in both the energy sector and via regional economic diversification.