Honourable A. Anne McLellan endorses Ben Henderson
September 7, 2021
Celebrated Edmontonian, the Honourable A. Anne McLellan has endorsed Ben Henderson, Liberal Candidate for Edmonton — Mill Woods. 
Ms. McLellan served four terms as the Liberal Member of Parliament for Edmonton Centre from 1993-2006. During her political career, Ms. McLellan was Deputy Prime Minister of Canada, Minister of Public Safety and Emergency Preparedness, Minister of Health, Minister of Justice and Attorney General of Canada and Minister of Natural Resources and Federal Interlocutor for Metis and Non-Status Indians. As Deputy Prime Minister, she chaired two Cabinet committees: the Operations Committee and the Security, Public Health and Emergencies Committee.
Ms. McLellan serves on the Board of Directors of Summit Industrial Income REIT and Invest Alberta Corporation, a Crown Corporation that works with the Government of Alberta and its partners to help investors to capitalize on Alberta investment opportunities.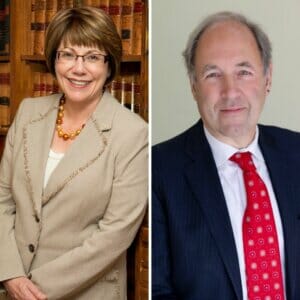 "Having the support of Anne is very special to me," said Henderson. "Ms. McLellan is a fearless champion for Edmonton. Her relentless advocacy for Alberta at the highest levels of national and international government has made tangible differences in our City. That is why I am so honoured to have received her endorsement and, with her help and that of our wonderful supporters, we are going to win this riding and I hope to follow in her footsteps and give Mill Woods residents the strong, experienced, Edmonton voice voters in this riding want."
In her endorsement, Ms. McLellan stressed Henderson's track record of working successfully working with different orders of government and his advocacy for affordable childcare.
"It is my pleasure to endorse Ben Henderson as the Liberal candidate for Edmonton Mill Woods. Ben's dedication to our community and Edmontonians is why I am endorsing him," said Ms. McLellan. 
"As a long-time City Councillor, he brings a track record of working with different orders of government on a wide variety of initiatives that have benefited Mill Woods and Edmonton. For example, Ben was instrumental in improving the commute for Mill Woods residents by helping get 50th street widened and the rail grade separation is done. He was and continues to be a strong proponent for affordable childcare for Edmonton families through his work on the Mayor's Task Force to Eliminate Poverty. And he has worked to secure funds for the valley line LRT, which will link Millwoods to downtown". 
"Ben lives in this city, works in this city and understands the needs and dreams of the people of Millwoods. Please vote for Ben Henderson on September 20th."
Since announcing his run for MP in Edmonton – Mill Woods, Ben Henderson has stressed his commitment to affordable, accessible child care for Mill Woods families, affordable housing, and getting Edmontonians back to work by creating good, quality stable jobs in both the energy sector and via regional economic diversification. 
Mill Woods residents can vote in the Federal election today at Mill Woods Town Centre or at advance polling places starting:
Friday, September 10, 2021
Saturday, September 11, 2021
Sunday, September 12, 2021
Monday, September 13, 2021