Local Representation Key to Edmonton's Economic Success
August 30, 2021
Local Representation Key to Edmonton's Economic Success: MP Chrystia Freeland stresses during her Ben Henderson Mill Woods campaign visit
August 27, 2021
EDMONTON — It's been another busy week at the Henderson campaign office in Mill Woods, located in southeast Edmonton. In addition to door-knocking on thousands of doors, Ben Henderson welcomed Liberal candidate Chrystia Freeland on August 25, to the Henderson Headquarters in the heart of Mill Woods.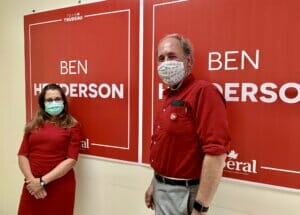 During their visit, Freeland and Henderson met with Edmonton business leaders and discussed the concerns the Henderson team is hearing from Mill Woods residents at the doors, including their desire for quality stable jobs, how the government can best support workers through a transition to a clean energy economy, and the overwhelming support Henderson is hearing at the doors for $10-per-day child care — a policy families have frequently cited as key to ensuring economic stability, more job opportunities for women, and better working conditions for child care workers. 
Businesses, especially local businesses, are the powerhouse of the Edmonton economy, and the workers who work at them ensure our communities are able to thrive. That's why the Liberal team is focused on supporting Canadians through the COVID-19 pandemic, and why they will continue to support those that are still struggling from the impacts of this crisis.
At the doors, Henderson is hearing a strong desire for an effective voice in Ottawa — Mill Woods residents want strong representation in the nation's capital and, over the last few years, business leaders have noticed the stark difference in service and effective advocacy they've experienced by not having a seat at decision-making tables in Ottawa.
Freeland stressed that the key to having a strong voice at the table is electing proven community leaders like Ben Henderson, who has the professional and political experience to be an effective advocate for Mill Woods and Edmonton. "Having a local voice at the decision-making table in government is the most effective way to ensure a region's sectors and institutions receive the targeted support they need," said, MP Chrystia Freeland. "By hearing directly from Liberal leaders like Ben about the uniqueness of their region's economy – such as Edmonton's bio-manufacturing, hydrogen, and fin-tech industries — we are able to make smart investments to help that community grow. That is why it is important that we get strong advocates like Ben to Ottawa." 
"If I'm elected as the Member of Parliament for Mill Woods, one of my key priorities will be working with my colleagues in Ottawa to ensure Edmonton's economic resiliency by focusing on creating quality jobs that take advantage of our highly skilled workforce here in Mill Woods and Edmonton," said Ben Henderson. "Every day, as I knock on the doors of nurses, electricians, engineers, and university students, I'm reminded of the amazing potential we have to be a globally recognized economic powerhouse. I've spent the last 14 years on City council working with my colleagues to advocate for the type of investments from the provincial and federal government that can make this our reality — in Ottawa I'll do the same but, with more levers at my disposal and a seat at the decision-making table, I'll be able to accelerate this work." 
Freeland and Henderson also visited with former Canadian citizenship court judge Gurcharan Bhatia, who is a community leader in Edmonton and who during his 50 plus years in Canada served as a Canadian Human Rights Commission member, helped fund several multicultural human rights organizations and launched a bi-weekly multicultural newspaper. He had encouraging words for Freeland and Henderson stressing his support for the Liberal party's values of inclusion and acceptance. 
The federal election is September 20 but Mill Woods residents can already vote early at Mill Woods Town Centre by special ballot.