Campaign Launch a success! Now we need your help!
August 23, 2021
Yesterday we opened our campaign office and launched our campaign to ensure Mill Woods has the effective and progressive representation in Ottawa it deserves and that will allow our community to get the support we need to thrive as we recover from the COVID-19 pandemic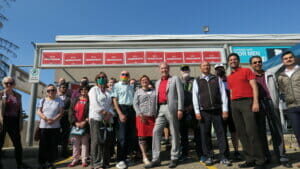 Supports the Liberal government is committed to providing Edmontonians, and key priorities I'm hearing from folks in Mill Woods include:
A LOCAL and experienced voice for Edmonton in Ottawa;
Securing Edmonton's economic future;
$10/day childcare for Mill Woods families that ensures affordability, quality and accessibility of spaces;
Minimum $25/hour wages for long-term care workers and improving conditions in long-term care facilities;
Permanent transit funding so that we can improve the transit service for Mill Woods residents and connect our new LRT line to all parts of the city and region;
Action on climate change that will protect our environment and open the door for good quality, stable, long-term jobs;
A government that supports and celebrates the diversity of our community.
I've knocked on hundreds of doors already and the message I'm hearing from residents is very encouraging. Compared to two years ago, there is a renewed optimism that we can elect a strong and effective Liberal voice for Edmonton Mill Woods that will make a positive and meaningful difference for families. With your help, we can win this election! 
There is also great appreciation for the CERB program and the support the Liberal government provided businesses and workers during the pandemic.
Residents are not happy with the Kenney government's response to COIVD, their treatment of healthcare workers, or the games they are playing with the childcare plan. 
Mill Woods residents are also concerned about what happens next, after this pandemic. 
This election comes at a pivotal time in our history. This is our opportunity to be part of renewing our vision for our city and our country: one that is prosperous, inclusive, and healthy — and the Liberal Party of Canada has a vision to do just that. 
But we need your help!
September 20 is Election day and that is only 30 days away! If we're to make real change happen in Mill Woods we'll need to work together. 
You can get involved today by:
Visit: BenHenderson.ca for more ways you can get involved!
Thank you in advance for those who do come out and help — we really appreciate your support!